It's officially 2020 and the time has come:
The gavtunes Top Ten Albums of 2019
2019 has been the most extensive year when it came to my music consumption, and narrowing down the ten best albums was a very difficult task. These albums blew me away with just how instrumentally creative, thematically unique, and lyrically thought provoking they are. A lot of these albums already have reviews up on the blog, so if you want to hear my in-depth thoughts about them I highly recommend giving the reviews a read.
Due to conflicts during winter break I was unable to post this list before 2020, but better late than never as they say...
10. Animated Violence Mild - Blanck Mass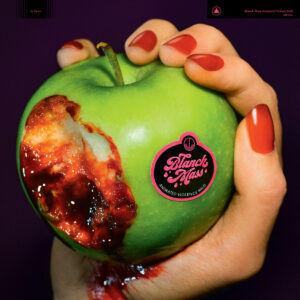 Genre: Post-Industrial Electronic
Animated Violence Mild is the third full-length album from Benjamin John Power, one half of the electronic duo, Fuck Buttons. Splitting from the band and creating his own work for over four years, Animated Violence Mild is the most abrasive listen in the Blanck Mass catalogue. Power utilizes a variety of vocals that range from indistinguishable muffled screams to more melodic and hooky ones. Each instrumental ranges anywhere from five to nine minutes in duration, creating a forty-three minute album out of just eight songs. The instrumentals all feature change-ups at one point or another within each song. This allows the listener to stay engaged throughout the long runtime of each track.
Highlight of the Album: The beautiful placement of the song, Creature/West Fuqua, as a breather track after the abrasive, Love Is a Parasite.
9. Juice B Crypts - Battles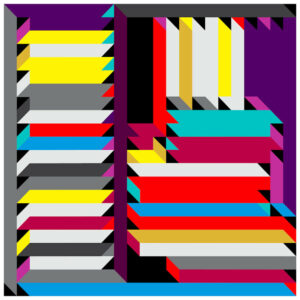 Genre: Math Rock/Experimental Rock
This album REALLY grew on me. I went from initially feeling a light 6/10 to a decent to strong 8/10. Juice B Crypts is the band's best work up to this point in their career. The album features spectacular drumming from John Stainer plus the most memorable loops from a band that specializes in synthetic loop-heavy backing tracks. All but one vocal feature on the album stands out as some of the best within the band's discography, whether thats from experimental hip-hop duo Shabazz Palaces or the groovy vocals of Sal Principato. Though it's unfortunate the band's long time bassist Dave Konopka left the group before this album, I personally believe it is for the better. With less instruments the songs feel more concise than ever. My big gripe with previous Battles' records is how there are always one to three tracks that hamper the listening experience. The songs either take too long to progress or the progression and instrumentation is too minimal compared to the rest of the album. This album does neither of those and stands out as the group's best because of this.
Highlight of the Album: John Stainer's drumming on every track, but especially on Ambulance and A Loop So Nice…
8. IGOR - Tyler, The Creator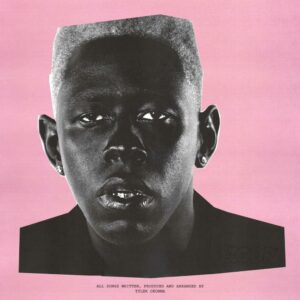 Genre: Neo-Soul/R&B
IGOR and Morbid Stuff by the pop punk band PUP were my two personal favorite breakup albums of the year. Based on narrative alone you have to give IGOR the edge due to just how compelling it is. In addition, the album has a three act structure going through Tyler's relationship struggles. The neo-soul and R&B elements are complemented greatly with the more hip-hop focused tracks like NEW MAGIC WAND and WHAT'S GOOD. If you haven't seen it already, I highly recommend checking out this video that really puts the narrative of IGOR in perspective:
https://www.youtube.com/watch?v=wI-fyoZqBQI&t=671s
Highlight of the Album: Tyler's compelling narrative and experimental take on neo-soul and R&B.
7. Morbid Stuff - PUP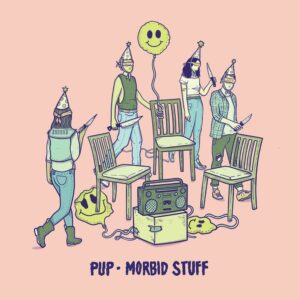 Genre: Pop Punk
What IGOR lacks is what Morbid Stuff has in abundance, and that's energy. While the narrative of the album isn't structured as well as IGOR, it features relatable pop punk tracks that delve more into post-breakup mentality rather than relationship struggles. The album features fantastic vocals, guitar riffs, and catchy hooks/choruses. Lead singer Stefan Babcock said it best during their 2019 Seattle concert, and that was, "We make sad music that doesn't sound sad."
Highlight of the Album: Being the greatest album to listen to if you need to get over someone.
6. Dogrel - FONTAINES D.C.
Genre: Post-Punk
There were a lot of fantastic debut albums that dropped in 2019 and Dogrel is without a doubt one of them. The Irish post-punk band adds a breathe of fresh air to a genre that hasn't seen much innovation within recent years. This is done by meshing the groovy, bass guitar driven sound of acts like Joy Division with more upbeat punk tracks that feature aggression similar to the aforementioned PUP. Where Morbid Stuff has little diversity when it comes to their meat-and-potatoes pop punk sound, Dogrel fantastically spruces slower, more melodic tracks within the listing. Lyrically, the album focuses on topics that aren't often covered, such as the Irish government and the Catholic church as a whole. If you like artists with accents, then don't pass this band up!
Highlight of the Album: Fantastic pacing, track placement, and a cohesive sound that is able to equally dip its toes in slower and more upbeat tracks.
5. Girl with Basket of Fruit - Xiu Xiu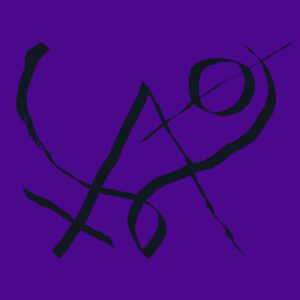 Genre: Experimental
This album is not for the faint of heart. It is an absolutely horrific, thrilling listen that is unlike anything else in the Xiu Xiu discography. The group has been making music for over two decades and are primarily known for their art pop and post-punk sound. This latest project from the group could not be further from that. It displays sample-heavy experimental and post-industrial influences in combination with spoken word vocals from front man Jamie Stewart. The pacing of the album is fantastic, with nine tracks total and every third track being slower and more ballad like. These tracks do a fantastic job giving the listener some breathing room to digest what they just heard prior.
Highlight of the Album: The feeling of dread and absolute horror you uniquely get when listening to this album.
4. Schlagenheim - black midi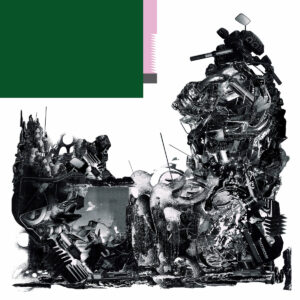 Genre: Experimental Rock/Math Rock
A unique blend of math rock, experimental rock, jazz, and post punk, Schlagenheim is the best debut album of the year. Not only is the sound one of a kind, but it comes from four guys that aren't even old enough to legally drink in the United States. The album features intricate, angular guitar work, some of the best drumming of the year, and some of the weirdest vocals I've ever heard. The pacing and sound diversity of the album features aggressive bangers such as Near DT, MI, and long, intricate ballads, like Western. With one more album as good as this, I could see black midi becoming one of my favorite bands of all time.
Highlight of the Album: One of a kind sound and the best organic instrumentation of the year.
3. Hi This Is Flume (Mixtape) - Flume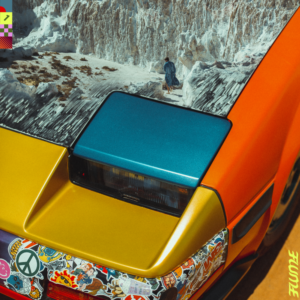 Genre: Electronic
Flume's previous work never impressed me, as it felt like all generic mainstream electronic music: decent production + pretty vocalist or hip-hop artist. Flume's 2016 record, Skin, truly was the epitome of this and he soon flew under my radar. Hi This Is Flume Mixtape is a vastly different experience as we see the Australian producer take a glitchy, experimental route with his production. The sound is almost a blend of Aphex Twin, SOPHIE, and Iglooghost, three artists within different subgenres of electronic music. The beautiful thing about the album is how Flume is able to neatly wrap all these sounds into one while still sounding "poppy" enough to appeal to a mainstream audience. The transitions within the album are the best of the year, and even though they can sometimes be a double-edged sword they are far more positive than negative.
Highlight of the Album: Transitions.
The album feels like one thirty-eight minute beat-tape. It's that cohesive.
2. Dog Whistle - Show Me the Body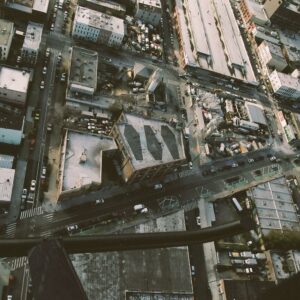 Genre: Noise Punk/Noise Rock
The best punk album of the year and the second best album of the year overall comes from New York noise-punk trio, Show Me the Body. Dog Whistle features menacing vocals, sludgy guitars, and lyricism ranging from discussion of police brutality all the way to the Holocaust. The album also boasts the best opening track from any album I heard this year. You have tracks that feature a slow build up, tracks that smack you in the face immediately, amazing transitions, and awesome use of a banjo within a punk group. Dog Whistle is a great bounce-back from the group's previous Corpus I project, which was an absolute mess. Unlike all previous albums listed, Dog Whistle only had one flaw: two unnecessary interludes that are forty-five and thirty seconds long.
Highlight of the Album: The transitions, the sludgy instrumentation, the use of banjo, and EVERYTHING except those two interludes.
1. There Existed an Addiction to Blood - clipping.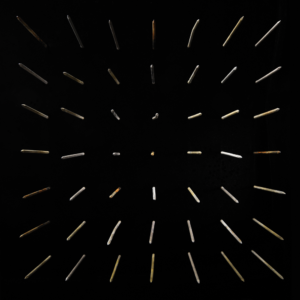 Genre: Experimental Hip-Hop
Being hailed as the first perfect album I've ever reviewed on the gavblog website, There Existed an Addiction to Blood is a harrowing, lyrically dense, and abrasive hip-hop album with one of the best concepts of all time. The experimental hip-hop trio creates a unique spin on the horrorcore subgenre of hip-hop music, but amplifies the intensity with gruesome lyrical imagery and harsh noise production from producers Jonathan Snipes and William Hudson. The blend of noise music with hip-hop is something unique to the band, but this is the first work by the trio where none of the samples feel out of place. The album contains features from vocalists, other hip-hop artists, and even noise producers such as The Rita and Pedestrian Deposit. The harsh sound of the album perfectly coincides with the lyrical topics of racial prejudice, gang violence, and police corruption in order help listeners understand the current condition of the United States. The tracks and interludes which focus on the horror elements specifically amplify the points made by lyricist, David Diggs, via juxtaposition. There Existed an Addition to Blood is an incomparable listening experience and the best album of 2019.
Highlight of the Album: EVERYTHING.