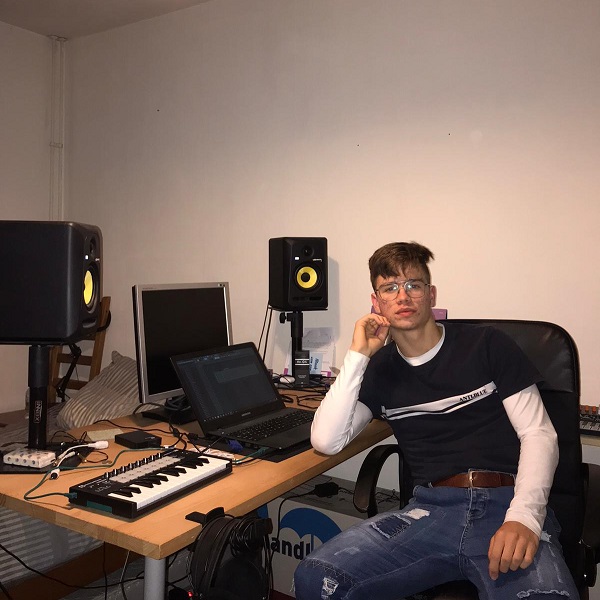 Thomas Ophoff, 18, started making EDM music at the young age of 15. As his music taste evolved over time, so did his own sound and image. Beginning his electronic music career under the stage name "Illicite" and since rebranding with the tag "Faint Louis," Ophoff blends experimental textures with familiar electronic soundscapes. His debut 2019 project, "Heat Of A Candle Flame," and subsequent singles leading up to his latest "!Faint!Louis!" EP have shown tons of promise and collaborate brainpower with features from artists such as Classic Jay, Eve Jones and Goldilux.
How did you get started making music? Was it always electronic music?
"When Martin Garrix and Tiësto started to make music in I think it was 2014, I got interested in electronic music, but I never was like, "Oh, let's make music." That came later in 2015 when I was at a local festival and there were DJs playing and I thought, "Woah, this is amazing." So I started doing the Martin Garrix thing, EDM, dance music, but I got bored after four or five months. I discovered new artists like Flume, Mura Masa, Hermitude, and that's basically how the more experimental music started. Right now it's three years later, almost four, and I'm still making music and still enjoying it."
How would you categorize your music? Do you believe it doesn't fall into one genre or subgenre?
"I'm not really making one genre, but I like to combine and blend experimental elements and really familiar elements. That's kind of the secret to making unique and experimental music. So for example, when you put in a piano or a guitar, that's really familiar and people know that. But when you combine it with something weird and something unlistened, it really stands out."
One of my favorite records of last year was Flume's "Hi This Is Flume Mixtape." I feel like it definitely brought the oddly textured, future bass sound to the mainstream eye. Do you have any thoughts on the record?
"To be honest, the first time I heard it I was really, really disappointed [laughs]. I know Flume through his record "Skin," and I kind of expected something like that. So when I first heard the newest mixtape, I was like, "What the heck is he doing?" But after a few listens, I really enjoyed it and I think he just broke through boundaries and blew my mind."
What's the music community like in the Netherlands?
"I have a few people that I'm working with right now in the Netherlands, but most of the community is singer-songwriters. We have a really big Dutch hip-hop scene and electronic scene, but those aren't really good to combine with the experimental music, so it's really hard to find producers who are more open minded."
I saw you've collaborated with a handful of other artists not only with your recent single, "Stay In Touch," but also on your latest EP. How do you choose and reach out to other artists you want to collaborate with?
"I use Reddit and sometimes on Instagram when I follow producers and look at who they follow, you can easily find artists you like. Just sending them a message, "Hey, I really like your music, let's do a track together." That's basically how I choose people to work with."
Are there any subreddits you utilize for musical inspiration?
"r/synthrecipes is amazing for sound design. Also the PC music scene is really amazing, that's how I found Goldilux for the track "Stay In Touch.""
How has COVID-19 affected your music making process?
"There's two sides. On the one side, you can't get in the studio with an artist and work closely, so that's a little bit hard. I think also because of COVID-19 I've started to listen to more music, so I'm getting a lot more inspiration. I've discovered artists like FKA Twigs, Tyler, the Creator, and that's changed the musical process. So yea, I think there are two sides to it."
Do you put any pressure on yourself to constantly be making music and how important is it for you to take time and decompress after releasing new content?
"Right now I'm taking my time. The last couple months I've been more focused on marketing than just the music. You can have good music and the best song, but if you aren't taking your time promoting it then it's getting no exposure."
What are your plans going forward? Are you currently working on anything right now?
"Yea, I actually did some new music with Eve Jones from last year's songs "Where Do We Go" and "Where We Will Still Be." I have to look when I'm going to release that because I'm also working with a label now. I think right now I'm just going to make a lot of music, finish a lot of music, and probably next year I'm going to release more projects. I'm really excited for it."
When did you get signed to your label?
"I'm actually not officially signed, but we had a talk about each other and to collaborate. They are really happy about my music so I'm really excited for that relationship."
Is there anything else we didn't talk about that you want to share?
"Not really [laughs], but if people want to check out my newest singles "Stay In Touch" and "70y" which is available on my SoundCloud, that would be great."