How a DJ organized local talent to benefit charity and perform for fans on a Twitch live stream.
By Haley Lund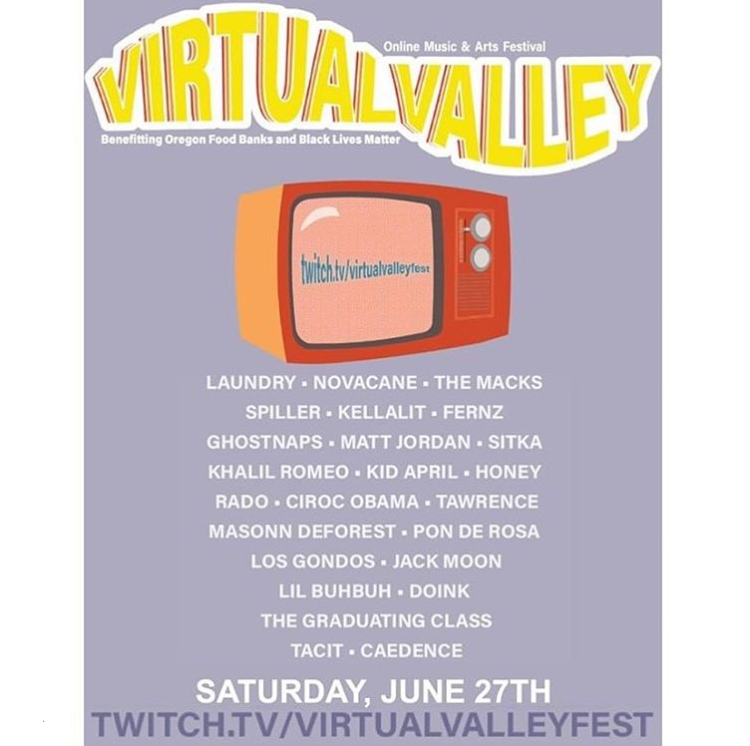 Because 2020 is shaping up to be a largely concert-less year, musicians have had to get creative to reach their audiences. With no ability to tour, many have taken to live streams to fill that void. 
That was the case for Richard Lathrop, who produces electronic dance music under the alias Ghostnaps. The cancellation of shows meant that the exposure and excitement of releasing new music, as he did in March, was subdued. After he learned that other local musicians were in a similar position, he organized 13 of them for the aptly-named Covchella, which took place on May 2nd utilizing Twitch as the streaming platform. Not only did this event allow them to promote their releases and connect with fans in a live chatroom, but it provided a unique platform for fundraising.
Eugene producer Ghostnaps performs for Virtual Valley Music Festival. Find more of his music at ghostnaps.bandcamp.com 
For Lathrop, there was no question about using this platform for charity in a time of financial instability for many due to COVID-19 restrictions. Through Covchella, he and the other performers were able to raise $1,334.28 after fees for FOOD For Lane County, a nonprofit which distributes food to locals in need. By all means, Covchella was a success, and plans for another event were in order. 
In the midst of planning the next stream, civil unrest erupted across the United States in response to a number of incidents of racially-motivated police brutality. Due to the nationwide reckoning with systemic racism that was and still is taking place, Lathrop made the decision to not only delay the next stream to a later date, but to alter his fundraising goals. 
The result was the Virtual Valley Music Festival, taking place on June 27th, benefiting Black Lives Matter and Oregon Food Bank. Funds were to be divided between the two organizations, with a goal of $3,000. 
All of the artists who participated in Covchella returned, and several more jumped in to bring the lineup to 23 acts. The stream took place over 12 hours, and the result was an impressive $2,407.64 raised after fees, which was then split evenly to benefit each cause.
"It has been incredible to see all of these artists and local music supporters gather together to do good for our community," Lathrop said in a statement on the festival's Instagram page. "It has been my absolute pleasure to organize and host both these events, but they wouldn't be anything without the musicians/bands, videographers, graphic designers, and video editors behind it."
Eugene band Novacane performs for Virtual Valley Music Festival. Find more of their music at novacaneforyou.bandcamp.com
In both events, artists recorded their sets individually and while adhering to social distancing, after which Lathrop coordinated the stream. This created a necessity for videographers and an opportunity for visual creativity. "If we put on a show at WOW Hall, for example, we would have all of the artists on the exact same stage," Lathrop said. But throughout the festival, performances took place in fields, bedrooms, kitchens, basements and even office spaces. Many performers decorated their backdrops and several sets incorporated visual effects in post-production. An archive containing each artist's individual stream is being uploaded to YouTube. 
Almost immediately after the conclusion of Virtual Valley, supporters were clamoring for more. Lathrop has said that he has big plans for the future, but that the next event will most likely take place a few months down the line. "Right now, with everything going on in the world, it doesn't feel like the right time," Lathrop said. However, these two events revealed an exciting potential for grassroots fundraising, while at the same time reuniting a burgeoning music scene that was interrupted by the COVID-19 crisis.